TERRAMASTER F2-223 2Bay 2.5GbE NAS Storage – High Performance for SMB with Intel Dual-Core CPU, 4GB DDR4, 2.5GbE Port x 2, Network Storage Server (Diskless)
Regular price
$259.99 USD
Regular price
$299.99 USD
Sale price
$259.99 USD
Unit price
per
Sale
Sold out
F2-223 Bullet Points:
Powerful Hardware:

the F2-223 NAS storage is equipped with N4505 dual-core 2.0GHz CPU, 4GB RAM DDR4 (expandable up to 32GB). With dual 2.5-Gigabit Ethernet ports, the NAS server supports up to 5 Gbps under Link Aggregation. A powerful 2 bay NAS designed for SMB High Performance Requirements.
Maximum Internal Raw Capacity:

40TB (20 TB drive x 2). This network attached storage is compatible with 3.5" and 2.5" SATA HDD, 2.5" SATA SSD. Supports RAID 0/1/JBOD/Single; Supports online capacity expansion and online migration. The built-in M.2 2280 NVMe SSD slot can realize SSD cache acceleration and increase the storage efficiency of the disk array several times.
Multiple Backup Solutions

: utilizes Centralized Backup, Duple Backup, Snapshot, CloudSync that are available in the NAS enclosure to enhance the safety of your data.
Easily build file storage servers,

mail servers, web servers, FTP servers, MySQL databases, CRM systems, Node.js, and Java virtual machines, as well as a host of other commercial applications.
Small-sized compact design,

can be used vertically and horizontally. The cloud storage features an aluminum-alloy shell and intelligent temperature control ultra-quiet fan, good in heat dissipation and Very Quiet.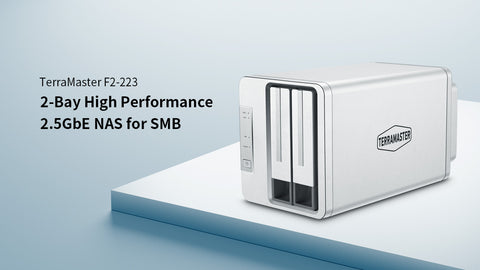 Designed for SMB with High Performance Requirements
Multiple Backup Solutions
Integrated with multiple backup applications, the NAS server uses visual user interfaces and reliable storage technologies to protect your precious data.
Centralized Backup
Backups for virtual machines, employees' PCs, and file servers are managed centrally, facilitating the rapid restoration of data after an incident.
Duple Backup
To provide several offsite backup versions, Duple Backup offers advanced data protection by backing up files to another remote TNAS, file server, or cloud drive.
Snapshot
Take continuous snapshots of your folders or iSCSI LUNs by enabling snapshot schedule. When a disaster occurs, it can roll back to points-in-time and restore to the last backup, ensuring your data is well protected.
CloudSync
Back up your data to a mainstream cloud drives to provide remote backup versions, making your data more secure.
Powerful Multimedia Service
With 4K video decoding capability, the F2-223 media server is compatible with uPnP/DLNA protocol and can stream videos to various multimedia devices, including computers, smart phones, media players and televisions, by using TerraMaster's proprietary application Multimedia Server or the one from another third-party, to deliver users constant, reliable entertainment experiences.
 Higher Transmission Speed
The F2-223 is configured with two 2.5 GbE interfaces, supporting 2.5 GbE high-speed network bandwidth. The transmission speed can reach 283 MB/s (dedicated NAS hard drives 20TB x 2, RAID 0). Link Aggregation provides a network bandwidth up to 5 Gb, thus providing a cost-effective solution for multi-user and high-concurrent file access.

The built-in M.2 NVMe slot realizes SSD cache acceleration and significantly increases the storage efficiency of the disk array. To meet performance enhancement expansion requirements, the memory can be extended to as large as 32GB.
Enjoy thousands of containers on Docker
Users can capitalise on Docker, a lightweight software containerisation solution, to operate numerous TOS-based containers.
These containers have been developed by leading practitioners in the international community, all of whom have benefited from the advanced technology. With Docker Hub, a wide-ranging built-in image repository, users can access shared applications from other developers in the community.
Smart Mobile App
With the TNAS mobile app, quickly access your TNAS cloud storage and its multimedia data without restrictions, all simply through your iOS or Android system.

TNAS.online spares you from setting up DDNS, complicated network settings, and further port forwarding rules when trying to access files on TNAS through the Internet.

At no additional expense, the service provides a secure, modifiable URL that you can use to engage with audio and video content, along with other work files, on your Internet-enabled device.
Share